Here is a favorite photo selected by Junnie..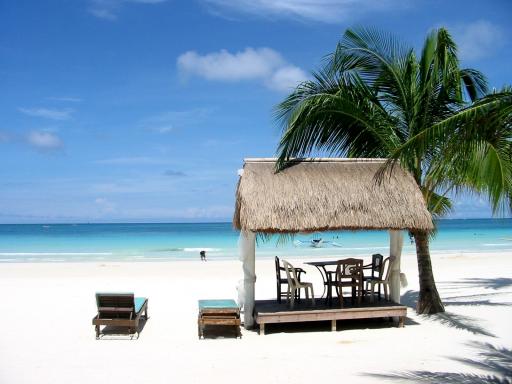 Junnie said: Here is a picture of Boracay, an island resort in my homeland, Philippines. Its a picture to remind me of God's ultimate handiwork - nature at its best. That's not milk by the way, those are pure white sands.
What kind of music do you enjoy the most? What do you like about it?
If I'd create a soundtrack of my life, it surely be full of 80s music. My Mac hard drive has 80s British bands hogging most of the disk space. Although its only the love for the 80s music that's left, I've stopped having those weird hairdos or using heavy eyeliners to prove my 80s loyalty. The gel, though, stuck in my-after-shower morning ritual.
Tell us about a place you have travelled to, that you enjoyed a lot and why?
I have a big mole in between toes. In Philippine folklore, that would mean that I'd have a life of moving around a lot. My wife and I are in our third continent in the last 3 years. From among the travels that we had, the places where we had a lot of opportunity of immersing the culture, the food and the place, stand out. Tuscany, Provence and the Greek Isles are among the top.
From a photographic point of view, what special places in the Philippines would you recommend to someone traveling there. Tell us about what we would see or do.
It's got to be the beaches where the sands are so fine you'd take a scoop and mix it with your coffee. We have a lot of world-class places to visit, Boracay, Palawan, Cebu and Bohol, just to name a few. There's also this place in the Philippines where you can own an island for practically a dollar per night. Where my mother grew up, Siargao, you only have to rent an outrigger from a local, pay him for a 15 minute boat ride from the main island and for the mere mention to the other boatmen that that small island is yours for the night. Overall if you love nature, you have to visit the Philippines. The country is known for its great sunsets. You'd practically have a different breathtaking sunset shot everyday.
Tell us about your most interesting experience taking a photograph.
Sometimes the most memorable experience is always the painful one that we wish we forget. I used this 36-exposure roll around Paris where I carefully aimed at interesting people along the banks, scenes from the artistic places in Montmartre, the roof from Arc de Triomphe, practically a day or two worth of zooming and panning. Up to this day, I couldn't understand why not one of them turned out after lab processing. That was my cue to take up digital photography. So the most interesting experience in taking a photograph is ending up with no photo at all.
What is your favorite type of photography? Why?
Shooting on the fly, where you create photos without pretension. I mean, picture taking is an art itself and that in a single moment from the time you see something with your eyes and the exact time you clicked, several events have transpired. I just love photography that sums up a whole experience in a 4 x 6. I love a picture that evokes emotion and provokes thought, photography that tells a story and one that captures the essence of the moment.
What haven't you photographed that you would like to in the future?
A lot. I'm a greenhorn in this endeavor. I'm just a simple guy blessed with a lot of time to take a lot of snapshots. I'm not even good at it. I'm still working on a lot of things. The only thing I can proudly say is that I enjoy doing it. So whenever I can, however it is, wherever it may be, I have my camera for that simple objective - to capture more of life's memento.
To see and read more visit Junnie Arreza (Memento).
Note: All images are copyright the photographer.