:: Previous Page ::
31DEC06 - Photo Friday - Best of 2006
Playing in a snowy playground on a tire swing: What could be more fun? (Photo taken this afternoon.)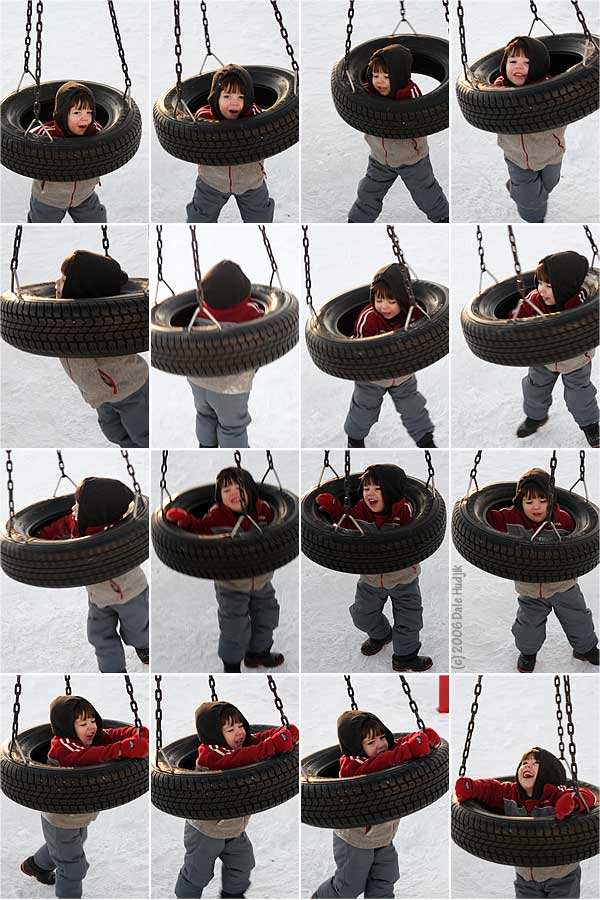 nancy bea - What a charming series! If I had to pick one I think the last shot says it all. But they are all great, thank you for sharing them!
(no link) - HI DALE: Jim Krause just turned me on to your website and I found this series of K+T: Kid + Tire Photos. They are just priceless and oh-so darling! The series reminds me of those flip-books that you page thru really fast and the image 'moves.' You really captured so much there! If you never ever do another foto, this one really says it all! Great Work! Cheers, ASK/Chicago, IL USA Koopersmith's Global Communications "People read what ASK writes about..." Jan. 2, 2006 - 2:33 PM ===============================
Roberta - What a fun series. Your son looks like he was having a blast. I hope you had as much fun as he did!
(no link) - lots of fun mil
(no link) - Hi Dale. Back in December when I took your Digital camera course you suggested we send you an e-mail to have you send us the information for G Mail (to delete spam e-mail). With Christmas and being away on vacation I'm just getting back to this and would appreciate if you could send me this information. I very much enjoyed your course and your style of teaching. I would very much like to take other computer courses from you. Have a great year and thanks again.
catnapping - I LOVE this series! The red jacket in that black tire makes for a great contrast, too.
Enter a comment..