:: Previous Page ::
Story in our newspaper today: "The five biggest cities today in population are Tokyo, with 35.3 million people, Mexico City (19.2 million), New York-Newark (18.5 million), Bombay (18.3 million) and Sao Paulo (18.3 million)."
"Half the world's population will live in cities in two years, a huge jump from the 30 percent residing in urban areas in 1950..."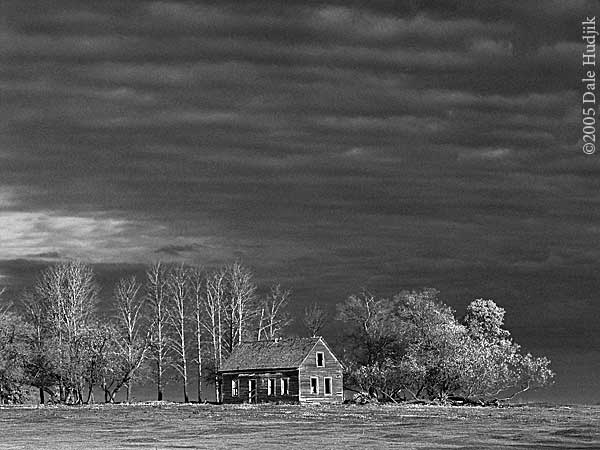 David Read - Excellent photo. Super composition and contrast which sets a perfect mood. Too bad we can't all spend more time in a rural settling like this one.
george - Great range of tones. But it looks so isolated that I'm not sure I would like to spend more time in a setting like that. Its amazing how different people see different things in the same image.
btezra - ~the amt. of negative space really creates a sense of this house being out in the middle of nowhere, very rural..~
Hilde - Grr... I just reset the page and had typed a long *clever* response. I love this photo, it does have an ominous feel to it - very Stephen King atmospheric or Alfred Hitchcock the Birds like.
cheryl - amazing!
Richard Bonser - This house looks isolated, abandoned, and sad. The photo looks like an infrared image, which lends a feeling of starkness to the whole image.
(no link) - WOW!
Shawn Lear - Man, that's a sweet photo. Our band has a new album coming out entitled HOME, and we'd like to discuss using your photo for our front cover. Email me if you're interested...thanks, Shawn
(no link) - i love it, it so magical and lonely all at the same time well done
Enter a comment..